Design Ideas for City Core Redevelopment Models - Sarojini Nagar
GPRA

Colony: an Urban Design Challenge by Delhi-NCR Centre, Institute of Urban Designers, India
For a long time now, professional opinion regarding the structure and density of Delhi has revolved around the disbalanced density between the city core and periphery. With mounting pressures on land as a resource, urban sprawl stretching the limits of the city and consequent problems with urban transportation and environmental degradation the need to densify existing precincts of the city becomes evident. However several issues regarding densification arise immediately. The prime issues relate to the feasibility of re-development of existing precincts with respect to the environment and urbanism.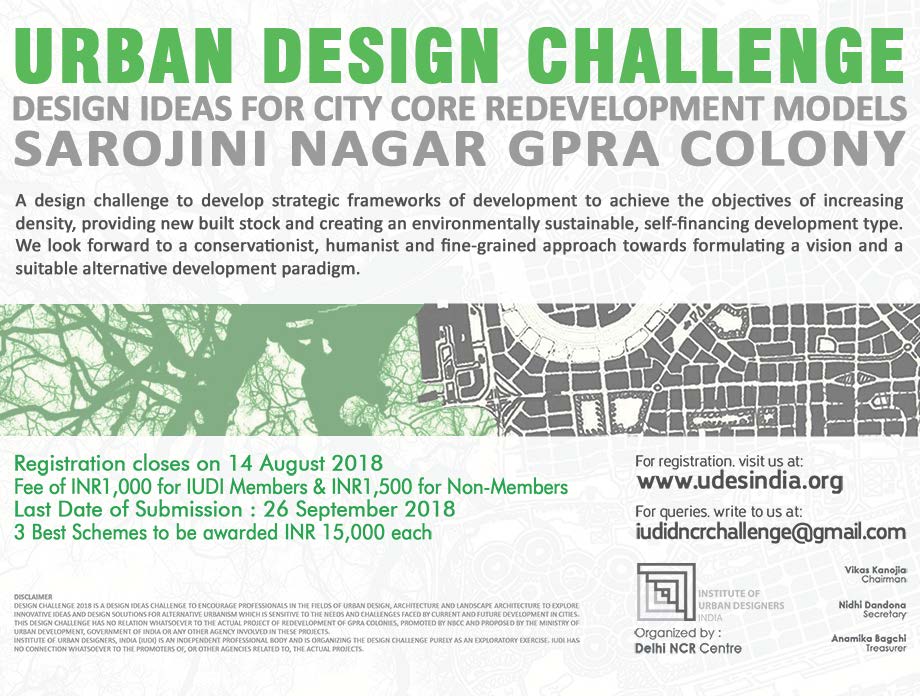 The Challenge
In July 2016, the Union Cabinet, Government of India, chaired by the Honourable Prime Minister, approved the redevelopment of seven General Pool Residential Accommodation (GPRA) colonies through the National Building Construction Corporation (India) Limited for Sarojini Nagar, Netaji Nagar and Nauroji Nagar; and the Central Public Works Department, Government of India for Kasturba Nagar, Thyagraj Nagar, Srinivaspuri and Mohammadpur. These projects are aimed at increasing the available residential units by almost two fold. They are to be self-financed with an estimated cost, including Operation and Maintenance for 30 years, being nearly INR 33,000 crores or INR 330 billion - by sale of Commercial Built-Up per Area PIB press release July 2016.
These redevelopment proposals are large-scale developments characterized by high-rises and manicured landscapes. They also seem energy intensive and isolated from their immediate built context. In addition to the recent uproar about felling of mature trees at one of these sites, the scale and intensity of such developments give rise to apprehensions about the visions behind these developments. The desire to maximize built-up area and use the location to utmost advantage, underlies the need to create deterministic designs which are far removed from the ground reality of a residential precinct within the city. Transformation of this nature invariably results in the need to 'wipe the slate clean' in a physical context. It is however, an unsuitable model for brown-field development. Therefore, it clearly indicates a need to tread softly and redefine the redevelopment paradigm.
We, therefore, pose a design challenge to develop strategic frameworks of development to achieve the objectives of increasing density, providing new built stock and creating an environmentally sustainable, self-financing development type. The objective of this exercise is to address the challenges of integrating ground realities of a site (in terms of its ecological-morphological context), the benefits of city core densification as well as economic opportunities through a viable real estate model.
In order to lend a realistic dimension to the challenge, we choose the Sarojini Nagar GPRA Colony Redevelopment project as a demonstration case. The chosen site gives us an opportunity to search for an appropriate urbanism that stems out of an understanding of the physical, ecological, economic, technological and social structures and networks. The selected site at Sarojini Nagar has been provided to make the Design Challenge realistic and connected to ground reality. The data and information, being provided, is purely for the purpose of reference and to aid the participants in the preparation of the Design Solutions.
We, therefore, look forward to a conservationist, humanist and fine-grained approach towards formulating a vision and suitable alternative development paradigms for the redeveloped precinct. We hope this would lead to a better discourse on urbanism that is progressive and appropriate to the challenges India faces in the 21st century.
Submission Requirements
The brief for the Design Challenge is based on the objectives of redeveloping the chosen precinct using the provisions of the actual project (in terms of uses, services, land area and built up area) and existing development guidelines - Master plan for Delhi 2021, sustainable development guidelines of GRIHA LD 4.0, applicable codes and bye laws - but only as baseline information. We expect participants to conceptualise their vision of a redevelopment type for this site, using their own interpretations of the programmatic determinants and selective use of existing development guidelines, in light of the intent and objectives of the Challenge. We urge participants to consider reasonable variations from the available built up area, permissible ground coverage and permissible mix of uses to propose what they deem suitable for the given site. A detailed brief will be available upon registration. It will expand on aspects that are required to be addressed in the formulation of a vision and development framework, provide mandatory regulations to be considered and data relevant to the site.
In terms of drawing requirements the minimum requirement to convey such a design scheme and strategies would be a set of drawings demonstrating the structure of the envisioned development, a master plan and part area details. The content is to be submitted in hard as well as soft copy over a maximum of (4) A1 sized sheets and a Design Note not more than 2000 words. The Design Note must also include, among other design narratives, mention of the financial model of the proposed development. The following drawings are expected to form the content of at least two(2) A1 sized sheets,
Context Plan showing the surrounding areas

Master Plan of the site (1:3000 scale)

Plans showing landscape, schematic infrastructure and integration of development frameworks (at least 1:5000 scale)

Diagrams and plans for movement networks, open space, functional disposition, built-open relationship at suitable scales.

Detail Area demonstration showing built form types and resolution of design strategies for sustainability measures, infrastructure, mobility, uses and activities at suitable scales.
Jury
Members of the Jury will meet late September in New Delhi and results will be announced in first week of October 2018.
Aniket Bhagwat, Architect & Landscape Architect

Vinod Gupta, Architect & Sustainable Design Expert

Rajesh Rishi, Architect & Project Manager

Rajinder Singh, Architect & Urban Designer

Geetam Tiwari, Architect & Transport Planner
Awards
Three best schemes shall be awarded a trophy, commendation certificate, and prize of INR 15000 each; additional commendations and certificates may be awarded.
The Awards will be at the sole discretion of the Jury and their decision shall be final and binding.
Guidelines
The Design Challenge is open to Architects, Landscape Architects and Urban Designers (individuals or teams) who are of the age of 50 years or younger as of the last date of registration of the competition. In case of a group of professionals or professionals and students, the maximum age of any of the participants shall be 50 years or lesser as of the last date of registration of the competition.
Family and offices of IUDI Executive Committee and Jury Members will not be eligible to participate.
Schedule
Registration closes on August 14, 2018

Last date of receipt of queries is August 18, 2018

Last date of reply to queries is August 22, 2018

Last date of submission is September 26, 2018
Registration and Group Entries
Registration is now closed, IUDI-DNCR thanks all participants for their interest.
Downloads
Contact
IUDI
You can find more information about IUDI at our website at udesindia.org and follow the Delhi-NCR Chapter of IUDI through its Facebook Page or view proceedings of the members-only community at IamIUDI